Designing and installing a kitchen is a very big job, so it can be hard to make sure you tick all the right boxes! You want to end up with the kitchen of your dreams, so make sure you consider the following ten things!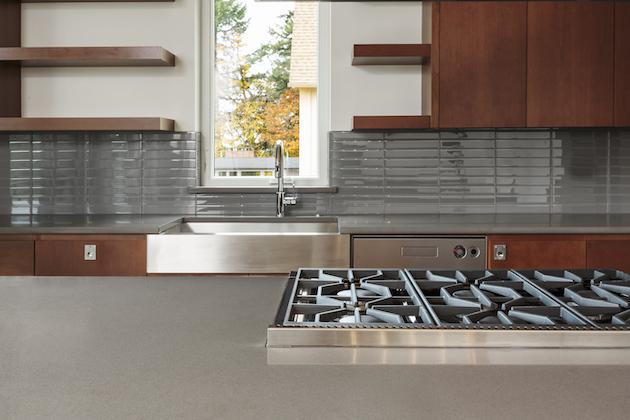 1. Don't forget about the function
The ideal kitchen has the sink, oven and fridge forming a triangle shape, for easy access. When designing your kitchen, don't focus solely on the aesthetic, as this may leave it to hard to use. Consider leaving enough space between all the cabinets and worktops to allow you to move around comfortably.
2. Consider your storage needs
Every kitchen needs a lot of storage in order to feel tidy and organised. Make sure your design allows for enough cupboard space, as well as countertop storage or shelving.
3. Maximise your light
Kitchens need adequate lighting to ensure safety, and there are loads of different ways to go about this. As well as main lights, what about lights under your cabinets on the wall? Or around the base of your cabinets on the floor?
4. Think about the location of your power outlets
This is key when designing your new kitchen! You will need to design certain elements around where your gas and electrics are located, so always be bearing this in mind.
5. Choose the right countertops
Your countertops are the first thing your eyes are drawn to in a new kitchen. Choose a colour that suits your style and a material that meets your needs.
6. You may need new appliances
Your new kitchen will cost less if you opt to reuse your old appliances, but why not push the boat out and buy new ones? If you splash out on appliances, find other handy ways to cut down the costs of your new kitchen.
7. Safety and accessibility
Simple things such as rounded countertops, child locks on cupboards and anti-slip flooring all help your kitchen to be much safer.
8. Ventilation is important
Don't forget to add a hood over your oven to help with ventilation during cooking on the hob.
9. Remember waste disposable and recyling
Thinking about rubbish bins and waste in the designing stage allows you to add handy, built-in options, e.g. bins in drawers of cupboards. If you don't like this idea, there are so many styles of bins to suit each kitchen theme.
10. Change up your flooring
There are so many flooring options available for kitchens. Consider hardwood, stone, laminate and lino. Each material has a different style and different benefits.
Need a new kitchen in Cheshire?
We install new kitchens across Greater Manchester, Cheshire, Salford, Trafford and Warrington. For a kitchen installation, you can be proud of, come to A4 Building Services today! For more information, or to arrange a quote, give us a call on 07850056293, fill out the contact form on our website, or email us at a4build@icloud.com.